Enter content here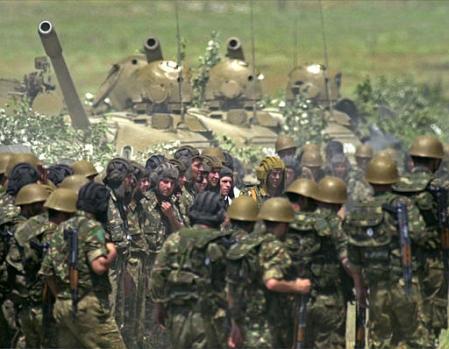 Macedonian soldiers from the 1st Infantry Brigade, aka "Scorpions," are reinforced with a tank platoon, as they gather for a briefing during a tactical exercise at the army training area Krivolak, 80 kms (50 miles) southeast of Macedonia's capital Skopje, Friday, June 14, 2002. (AP Photo/Boris Grdanoski)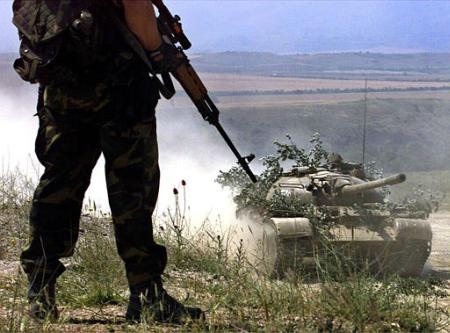 Macedonian Army sharpshooter stands beside a dusty road as an army tank T-55 moves forward, during a tactical exercise for the 1st Infantry Brigade, aka "Scorpions", reinforced with a tank platoon, at the army training area Krivolak, 80 kms (50 miles) southeast of Macedonia's capital Skopje, Friday, June 14, 2002. (AP Photo/Boris Grdanoski)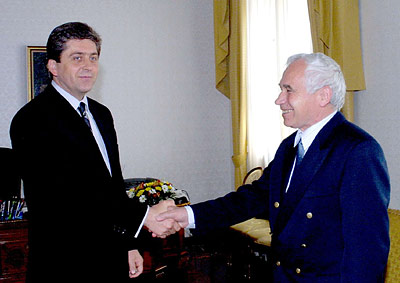 President Georgi Purvanov confers with former president Zhelyu Zhelev. Pressphoto - BTA photo : Anelia Nikolova
PARLIAMENT ADOPTS DRAFT LAWS ON ELECTION OF DEPUTIES AND VOTER LIST.
MIA
The Macedonian Parliament adopted draft-laws on election of members of the parliament and voter list at its 107th session on Friday.

The first law was adopted by 89 votes "for" and one "restraint", while the second by 84 votes "for" and eight "restraint".

Earlier, the Government submitted its amendments to the draft-laws, as agreed by the four political parties-signatories of the Framework Agreement-at the meetings with international facilitators. The European Special Envoy to Macedonia, Alain Le Roy, handed over the agreement on amendments, signed by the leaders of VMRO-DPMNE, SDSM, DPA and PDP, to Parliament Speaker Stojan Andov this morning.

According to the new law on election of parliament members, the President of Macedonia is to appoint a president of the State Election Commission (SEC), who should be a person that enjoys large political support. Presidents of the regional commissions and their deputies will be appointed by SEC with a two-third majority of votes. If such majority is not provided, then the appointment will be carried out by simple majority of the SEC votes. Same procedure will be applied for election of presidents of the municipal election commissions.
The ballot will present a number of the polling station and the flag of Macedonia, while the voting instructions, which are not part of the ballot, will be written in Macedonian language and its Cyrillic Alphabet and in languages and alphabets of other comminutes, listed in the Macedonian Constitution Preamble.

The Parliament will continue its session on Tuesday, debating a draft-law on election districts.