Enter content here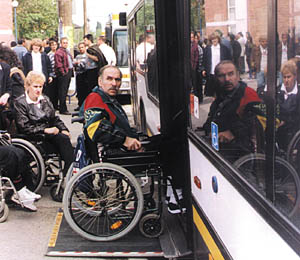 Fifteen buses of line 72 equipped especially for disabled people were set in operation on Sunday in Sofia. Lyulin Stamenov/Sofia Echo
TURKEY-BULGARIANS-ARREST.
BTA
Consul Georgi Dimov Claims Civil Rights Violation in Arrest of 30 Bulgarians in Turkey.
Sofia, May 12 (BTA) - The arrest of 30 Bulgarians in Turkey close to the border with Bulgaria involved violation of basic civil rights, according to the Bulgarian Consul in Edirne Georgi Dimov.
The detainees were not given a chance to contact a Bulgarian consulate for more than 24 hours, which constitutes a violation of their civil rights both under the Bulgarian and under the Turkish laws, Dimov said in an interview for Bulgarian National Radio Sunday.
The Bulgarians were arrested in a large-scale operation of the Turkish gendarmerie on May 10. They had confiscated liquor and cigarettes brought from the duty-free shop on the border, said National Radio.
The Sunday papers wrote that the arrest was part of a large-scale operation against a local cigarettes and liquor smuggler.
Thanks to the efforts of the Bulgarian Consulate in Edirne, of the whole Bulgarian Foreign Ministry and personally of Foreign Minister Solomon Passy, and following what Dimov describes as "a 10-hour saga", all Bulgarians were released. At 10.30 p.m. on Saturday they were taken back to Bulgaria and by midnight all had reached their homes, the diplomat said.